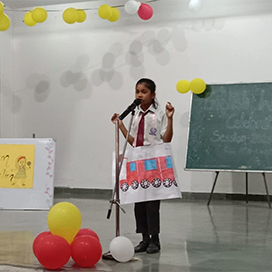 "Poetry is when an emotion has found its thought and the thought has found words."
'English Week Celebration' begins at MDVM school from 17th April with 'Lamp Lighting' and motivation by the Principal sir 'Dr. Satyaveer Singh'.
He motivated students the importance of English Language as it plays a vital role when we are in any corner of the earth .
In the celebration of Day 1 'Poem Recitation' competition is conducted for the students of classes 1 to 3.
Here are some glimpses …
#Day 1