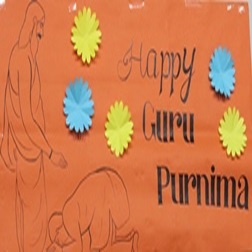 गुरू ब्रह्मा गुरू विष्णु, गुरु देवो महेश्वरा :।।
गुरु साक्षात परब्रह्म, तस्मै श्री गुरुवे नम: ।।
"Life needs some power to push you up, Guru is that superpower."
GURU PURNIMA CELEBRATION @ MDVM
The Sanskrit word Guru means "dispeller of darkness." The Guru allows a seeker to encounter the source of creation within.
MDVM PARLE SCHOOL NEEMRANA held a special assembly on the auspicious occasion of Guru Poornima.
It is observed as a day of remembrance for gurus, who are the spiritual torchbearers. There is a greater reverence for the Guru in Indian culture than for God. Guru's grace and blessings can transform disciples from ignorance to knowledge and darkness to light.
The event clearly embodied the Principal's vision of encouraging and assisting the students in connecting with their roots and developing in them a good sense of identity and self worth.
GuruPurnima #Gurupurnima2023 #GuruPurnimaCelebration #MDVMNeemrana