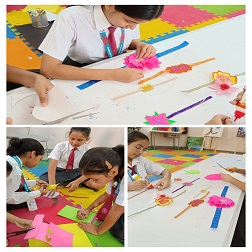 Celebrating Rakhi in schools helps foster a sense of unity, love, and respect among students. It's a way to teach them about the bond between siblings and the significance of relationships. Additionally, such celebrations promote cultural understanding and provide an opportunity for students to learn about different festivals and traditions.
Keeping in mind the importance of this festival, We had an incredible time at the rakhi making competition and activity at school!
It was such a joy to see everyone's creativity shine as we crafted beautiful rakhis together. A big shoutout to all the participants for their fantastic creations!
Sending warm wishes to all on this special occasion. Happy Raksha Bandhan!
#RakhiCelebrations#SchoolFun#CreativityUnleashed