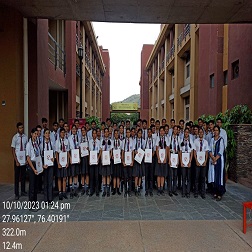 A Memorable Educational Expedition!
On October 10, 2023, MDVM Parle School students embarked on an enlightening journey to NIIT University, Neemrana.
The visit showcased a grand 100-acre campus, bubbling with enthusiastic students and insightful professors.
Warmly welcomed, and explored the campus's stunning surroundings and had a delicious breakfast to fuel the day.
Planting on the Aravali hills, mesmerized by the lush beauty, nurturing the appreciation for nature.
The cactus garden's creativity and the campus's natural air conditioning were impressive!
Orientation sessions by President Prof. Parimal Mandke and the Academic Dean were truly enlightening. Everyone got a glimpse into the future vision and diverse clubs on campus.
The visit to NIIT University inspired the students with a commitment to higher education and career exploration. The welcoming atmosphere left a lasting impact, igniting kids' determination!
Special thanks to NIIT University for this incredible opportunity! We look forward to strengthening our connection in the future.
#MDVMPARLEVisitsNIIT#Education#Exploration