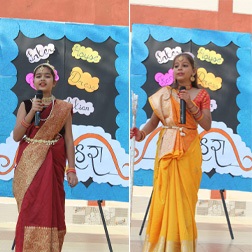 MDVM School witnessed an enchanting Fancy Dress competition where students from classes 3 to 5 showcased their creativity and talent. The competition's theme was centred around characters from the legendary Ramayana epics and the colourful Navratri celebration.
It was a spectacular display of youthful imagination and enthusiasm. Students came dressed as their chosen characters, portraying them with remarkable dedication. The effort they put into their costumes and performances was commendable.
They created authentic characters with their dialogues and facial expressions, which captured the audience's attention. The presence of our principal sir and dedicated coordinators graced the competition.
The event offered an opportunity for students to not only demonstrate their acting talents but also gain knowledge about Indian culture and tradition.
Mdvmschool#Fancydress#Navdurga#Ramnavami#Navratricelebration#Ramayanepics#knowledgeculturetradition..