Mr. Sandeep Pandey (General Manager)
(Parle Biscuits Pvt. Ltd. Neemrana)
Time flies very fast. Today the fast pace of life and competitive world ahead force the students to be more energetic and dynamic. I believe that educational institutions play a vital role in moulding students' future.
Education is not only related to academics but it is the sum total of what an individual learns throughout his life. The key to success in the world lies in the hope that education is a continuous and ongoing process and does not end with obtaining high degrees. You need to be in touch with the world and society at large if you wish to survive. You all are born with a free will. Each one of you has the power and the privilege to decide for yourself which road of life you want to tread on. The final decision rests within the confines of your own mind whether you succeed or fail. Success ultimately depends on you, so believe in yourself and trudge along the walk of life. Always remember that if a person remains steady in his determination, he is sure to reach the goal. Let your highest aspiration organize your life.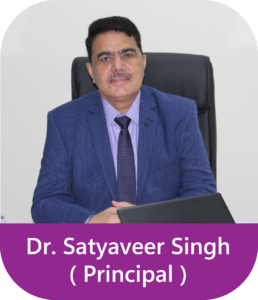 Dr. Satyaveer Singh (Principal)
MDVM (Parle) School, Neemrana
We are committed to personal excellence of each student by imparting holistic education with high moral values. This school provides an opportunity to its students not only to acquire good education but also gives a foundation to be a successful personality.
We have tried to gear up our students as responsible and alert human beings who have a lot to contribute towards the growth of the society and the nation. Our endeavor is to bring out the best out of a child.
The education in our school is meant to develop character, courage and confidence. Besides this, you have to have a competent integrity, justice, sincerity and loyalty. Above all you must have a strong will and be ready to face all odds with grit and determination. Remember to be bold yet humble, confident but not proud, tender yet firm and content but not complacent. You must always have right values. Good character involves identifying, believing and practicing good behavior. Strong moral values lead to good behavior and are sure to become a part of your character through effort and practice.
Having witnessed the MDVians flourishing in both academics and co-curricular activities, I assure all of you that our dedicated and excellent team of teaching staff would further endeavour to provide quality education to the children and make it one of the best schools in the region.