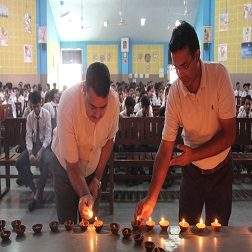 From darkness to the light that empowers us to commit ourselves to good deeds, that which brings us closer to divinity; lights illuminate every corner of India during Diwali and the scent of incense sticks hangs in the air, mingled with the sounds of fire-crackers, joy, togetherness and hope.
The celebration of Diwali,' The festival of lights came alive at MDVM School when the whole school wore a festive look with the illumination of 500 Diyas adorning the stage in the auditorium hall.
The song of the Lord Shree Rama brought out the essence of the festival -the celebration of life and goodness. The students talked about the significance of the festival – how good always conquered evil and also about why and how Diwali is celebrated across India. The students showcased the spirit of Diwali through a mesmerising dance performance. Principal, Dr. Satyaveer Singh gave away the message of a clean, peaceful and bright Diwali. He guided the students to follow the path of lord Shree Rama and to obey their fathers like lord Shree Rama. He wished Happy Diwali on behalf of the Management and staff.