Glimpses of Christmas celebration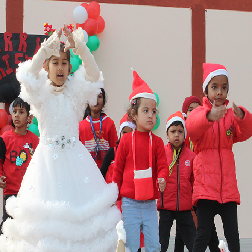 "Christmas magic is silent. You don't hear it – you feel it. You know it. You believe it." – Kevin Alen Milne
Students at MDVM PARLE SCHOOL had a very eventful day today. The daybreak of 24 December 2022 at the school was brimmed with laughter and joy as the gift of merry and happiness was exchanged among our tiny tots who made the Christmas celebration more vibrant with the jingling of bells and colourful streamers and decorated Christmas tree. Singing Christmas Carols, Dance, Skits and other activities were just like having a cherry on the cake…..
The school hosted its Annual Fun Fair in the most elegant and classy way on the capacious school campus with pomp and show amidst all the glitterati. The school wore an imperial look with a carnival theme. It was a mega show with exciting rides and delightfully decorated shopping stalls. Since the event was high on style, The crafts items made by Manthan Foundation kids stole all the attention. It's a good opportunity for participants to explore their interpersonal and marketing skills.
The carnival witnessed a huge gathering and was a mega success with around 20 stalls and counters. The event culminated with the announcement of the winners' names in the Lucky Draw.
MDVM School wishes you all Merry Christmas and Happy New Year
Christmas #merrychristmas #school
Childrenfair#fun#enjoy