CBSE National Judo Championship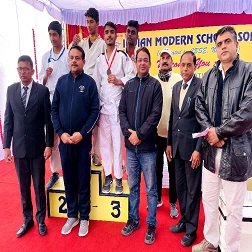 Kano Jigoro rightly says,
*"If there is effort there is always accomplishment."*
The judokas of MDVM Parle School have proven it by bagging umpteen number of medals in CBSE NATIONAL JUDO CHAMPIONSHIP held at Indian Modern school, Sonipat Haryana from 7th to 11th January 2023. Competing with various schools and in various categories, our students have shone brightly and made their school and parents super proud of them.
Overall, our students won 1 gold and 3 bronze medals.
We wish all the children the very best for future endeavours and pray that they reach the zenith of success.
Stars performers –
Shashwat Class V – (Gold Medal)
Harsh Class IV – (Bronze Medal)
Vishal Class XI – (Bronze Medal)
Monika Class XII – (Bronze Medal)