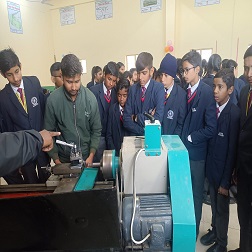 *Industrial visit is a part of the educational tour which provides students with an opportunity to learn practically through interaction, working methods and employment practices.*
In order to bridge the gap between practice and theory and to provide students exposure of industry, an industrial visit was conducted on 17January at the ITI, Neemrana.
They received industrial knowledge and learnt the names of numerous pieces of machinery and equipment as well as their purposes.
They learned about several courses, including welding, COPA, electrical, etc., and were impressed by the numerous goods the kids there had produced.
#Industrialvisit#educationaltour#opportunity#industry#MDVMSchool