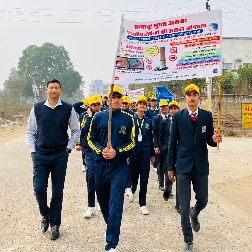 "Saying no to tobacco is saying yes to life. Let us save lives around us by making them aware of threats tobacco poses to all of us."
Today, MDVM's promising NCC cadets participated in a rally conducted by 'Health and Public Welfare Department Neemrana' with the message "Tobacco Free Alwar" to raise awareness.
The subdivision officer (SDM) 'Mr. Mukut Singh' , NCC In charge Mr. Pradeep Karhana , The Principal of Govt Sen Sec School along with teachers , medical professionals, and others were present.
After the demonstration, sub-divisional officer (SDM) "Mr. Mukut Singh" addressed everyone on the harmful effects of tobacco usage and provided a pledge to stop using it to those who were already using it in society.