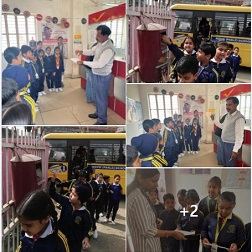 Visit to a Post Office : Post-office is a place where receiving of money orders, postcards, letters, parcels etc. takes place and it is the post office from which dispatch of those items into the designated places is done. Post office is an indispensable part of the communication system and the society. Though a lot if purposes of personal communication are cut down due to emerging of electronic communication such as mobile, telephone, fax, email, etc. but still post office has it's great importance in the society.
On 22nd of February students of Grade-3
Visited Post Office
.
The children and teachers were warmly welcomed by the staff at the Post- office. They were taken around to see how letters are collected, segregated, stamped and then stored in pigeon holes for the postmen to collect. It was altogether a great learning experience especially in these times of email & fax.
The main idea of the trip was to teach children the format of writing formal and informal letters and how to post them. At the post office, our kids observed different types of letters like Inland letter, Registered letter, speed post. They also saw how the letters are categorised according to types, places and procedures to send them to various places. Teachers explained about different stamps and their prices on the stamps and when to use them.