Inter House Football Match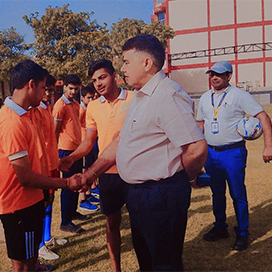 "A champion is simply someone who did not give up when they could have."
An Inter House Football Match played at the school's playground in the morning where all the students with fully dedication, enthusiasm and hunger for winning match through their outstanding performance.
The referee, Mr. Deepak Kalia completed all the necessary arrangement and managed the ground and the Principal of the school , Dr. Satyaveer Singh motivated the players and inaugurated the match between Subhash and Tilak house.
On 24th April the 'Final Match' played between Tilak and Azad house. Tilak house beat Azad house with 3-0 .