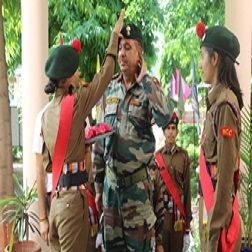 "STUDENTS TOOK THE FIRST STEP TOWARDS BECOMING NCC CADETS"
Magnificent Regimented Sight at MDVM School as spirited MDVians broke their sweat in the Army Wing Selection.
MDVM School opened its front field for NCC selections on 11th July 2023. The selection procedure included a physical fitness test. Colonel Ramniwas, Hol. Devendra Singh, Hol. Jagdish, RIS Rakseh Yadav, & Mr. Vikram Singh from 3 RAJ ARMD SQN NCC ALWAR UNIT were the selection committee members. Mr Pradeep Karhana, NCC Incharge, also witnessed the selection process of the students.
School Principal Dr Satyaveer Singh welcomed NCC officials and wished students all the best for their selection.
35 boys and 32 girls from class 9 attended selection trials. A total of 25 cadets (08 girls and 17 boys) made it through the selection process based on their physical fitness and stamina.
Colonel Ramniwas scrutinised the selection process of the aspiring cadets and stimulated them by instilling patriotism and expounding on the significance of NCC. He was amazed by their spirit of patriotism and educated them that there is no better service than serving the nation.
nationalcadetcorps
mdvmschoolneemrana#selectiontrial