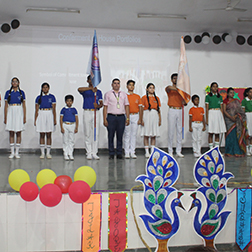 *Reach high, for stars lie hidden in your soul,*
*Dream big, for every dream precedes the goal.*
The New Student Council of MDVM School was invested with duties for the academic session 2023- 24. The event was conducted with great enthusiasm and pride, marking a significant moment in recognizing the potential and capabilities of the newly appointed leaders.
The newly appointed leaders were presented with their badges of honour, denoting their respective positions. The badges symbolized the trust and responsibility bestowed upon them by the honourable chief guest, Fr Packiam MSJ (Principal, St. Xavier School), Mr Karam Singh Yadav (Principal, Govt. Sr. Sec. School, Neemrana), Mr Sandeep Kumar Pandey (GM, Parle Biscuits Pvt. Ltd.) and respected Principal, Dr Satyaveer Singh. The newly appointed Board of Students' Council was administered an oath of allegiance promising to serve their Alma Mater with the utmost sincerity.
The celebration featured a variety of ethnic performances presented by the school's gifted students to add colour and excitement. Dance, music, and theatrical acts celebrated the spirit of leadership and unity among the student body.
The students were inspired by their principal, Dr Satyaveer Singh, and were given his wise counsel, which would enable them to clearly see their objectives and accomplish their duties with complete dedication. The Chief Guest appreciated the newly appointed Students' Council and emphasized the importance of leadership and its role in shaping the future of the school and the nation.
The ceremony concluded in a positive tone, leaving a lasting impression on everyone there. The event served as a reminder to the entire student body of the value of accountability, discipline, and teamwork in addition to recognizing the leadership potential of the selected students.